Quality management system (QMS)
Quality and continual improvement.
The quality management system supports our company in continually improving the quality of our services and ensures our customers' and fellow employees' satisfaction. This is an essential prerequisite for our company's success.
We live by and maintain our quality management system in accordance with the requirements of ISO 9001:2015. Flat hierarchies, short communication channels and, last but not least, our continual improvement process (CIP) aid us in this. A basic principle of the CIP is that all employees are included in the process.
Abb. 01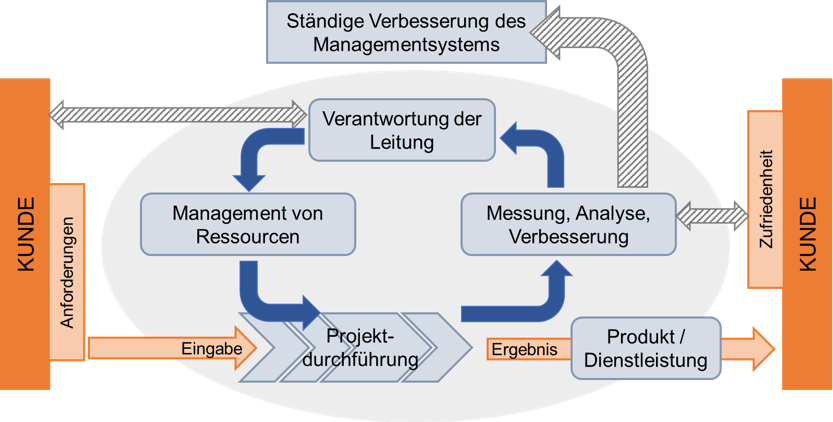 We use the advantages of our quality management system to:
Screen all business processes in order to optimise them and thereby conserve resources
Create transparency within our company
Improve cooperation through clear areas of responsibility
Ensure that we are viewed positively by our customers and suppliers by building trust
Create greater motivation among our employees by providing them with comprehensive information and integrating them into our corporate culture
Promote quality consciousness
Promote a sense of responsibility
Assign responsibility
Preserve and/or expand company expertise by means of documentation
Prove the company's due diligence in legal matters
Our QM system (see fig. 01) is applied to all of our projects and services. Clear processes mean clear standards within the teams involved.
Even our outsourced processes (e.g. drilling, data read-out, laboratory analyses from external providers) are subject to the highest quality standards.
The QM system covers all sections of DIN EN ISO 9001:2015 with the exception of development.
Feel free to get in touch with our Quality Manager, Jeanette Schönen.